CREDITS
CLIENT : SWIRE PROPERTIES
HK CONSULTANTS :  ARUP (Structure, Fire & Sustainability) ; JRP (Services Engineers) ;  HS&A (Facade Consultants)
LIGHTING CONSULTANTS : Speirs & Major (Keith Bradshaw, Benz Roos)

CONTRACTORS PHASE 1 : GAMMON (Main Contractor) ; PERMASTEELLISA (Envelope) ; ATAL (Services)
HDA TEAM : Hugh Dutton, Giovanni Lunelli, Mitsu Edwards (Project leader 1),  Azhar Khan, Arnaud Vernier, Nicolas Polaert, Rafael Silvera, Laya Hermelin, Pier Luigi Bucci Laurie  Rowenczyn (Project leader 2), Andreas Pfaedler; Sebastien Perrault, Riccardo Perna, Andreas Schnubel, Sara Maggipinto, Yingjie Yu, Sebastian Lemny, Gaetan Kohler, Pietro Demontis, Asaka Rieser, Phil Barrett, Maria Angela Corsi, Dan Barlow (Hong Kong), Susanna Wong (Hong Kong), Nicolas Bouchet.
Light Ribbons in a Garden
Swire Properties' redevelopment of Taikoo Place is about bringing a new life to the Quarry Bay community. Interconnecting the business environment with public activities and social context. The walkways are an essential part of this grand operation linking the new and existing buildings around Taikoo Place. They create a fluid but discreet transition between the work environment and the garden with its peripheral amenities.
Going beyond their functional role, the walkways are intended to animate the garden and provide a promenade as well as direct passages to the green space. They are a symbolic expression of connecting and movement. They bring light to the garden.
And they have a cultural role, creating a forum for interchange and art.
The iconic arches dance sculpturally between the towers expressing the linking of old and new. By hanging the walking decks from above, the panoramic view of the garden is maximized with only occasional suspension rods. Beneath, the absence of columns allows a minimum of disturbance for visibility in the garden.
A mullion free glass wall gives a continuous transparency to the garden from the elevated pathways, supported on a handrail wide enough for people to lean on and appreciate the view. Like being on a ship, floating in the garden, to recall subliminally the maritime context of the Taikoo site. Like a cloister surrounding a garden, a contemplative place for exchange and resourcing.
A luminous and transparent roof provides continuous natural wayfinding and a feeling of openness with glimpses of the sky and surrounding towers whilst providing night-time wayfinding. Beneath the bridge, light is present too, as a shimmering anodized finish soffit reflects the plants and life in the garden, animating the pathways under the suspended decks.
Conceived as a minimal and fluid ribbon in complementary contrast to the verticality and the mass of the towers they link together, the walking decks are as visually lightweight as possible, suspended from a series of arches.
Making curved forms involves sophisticated geometry
Making curved forms involves sophisticated geometry solutions to fabricate, bend and assemble conventional materials to the unconventional shapes. The process involves defining developable surfaces, such as cylinders or cones for steel plate, glass and aluminium cladding to be curved to. Major concrete structural piles that support the bridges in the landscape in are cast with formwork in curvable steel or timber planks assembled and cut to form ruled surfaces. For the arches, steel plate is numerically plasma cut and then formed on jigs in the factory to conical shapes with welded corners ground smooth. Glass is heat bended in special curved conveyor arrays in tempering ovens. Aluminium soffit sheets are lazer cut and assembled to hinged frames to follow the meandering curvature of the deck.
Sustainable design, energy performance
Consistent with Swire Properties commitment to sustainable design, energy performance is optimized for the air conditioned walkways. Roof glazing is fritted to limit solar heat absorption in patterns following exposure to sun's rays whilst allowing enough light without artificial fixtures. A generous overhang to the garden shades the panoramic glass wall from summer the hottest midday and evening sun. The topography and mechanical equipment of the bridge exploits natural flow of warm air in cooler seasons from the garden through the deck to high points at the connections to existing bridges at Oxford House and One island East. Small free cooling fans in the deck help draw the fresh air through gaps in the cladding to be exhausted through opening ventilation panels at the high points in assisted natural convection flow.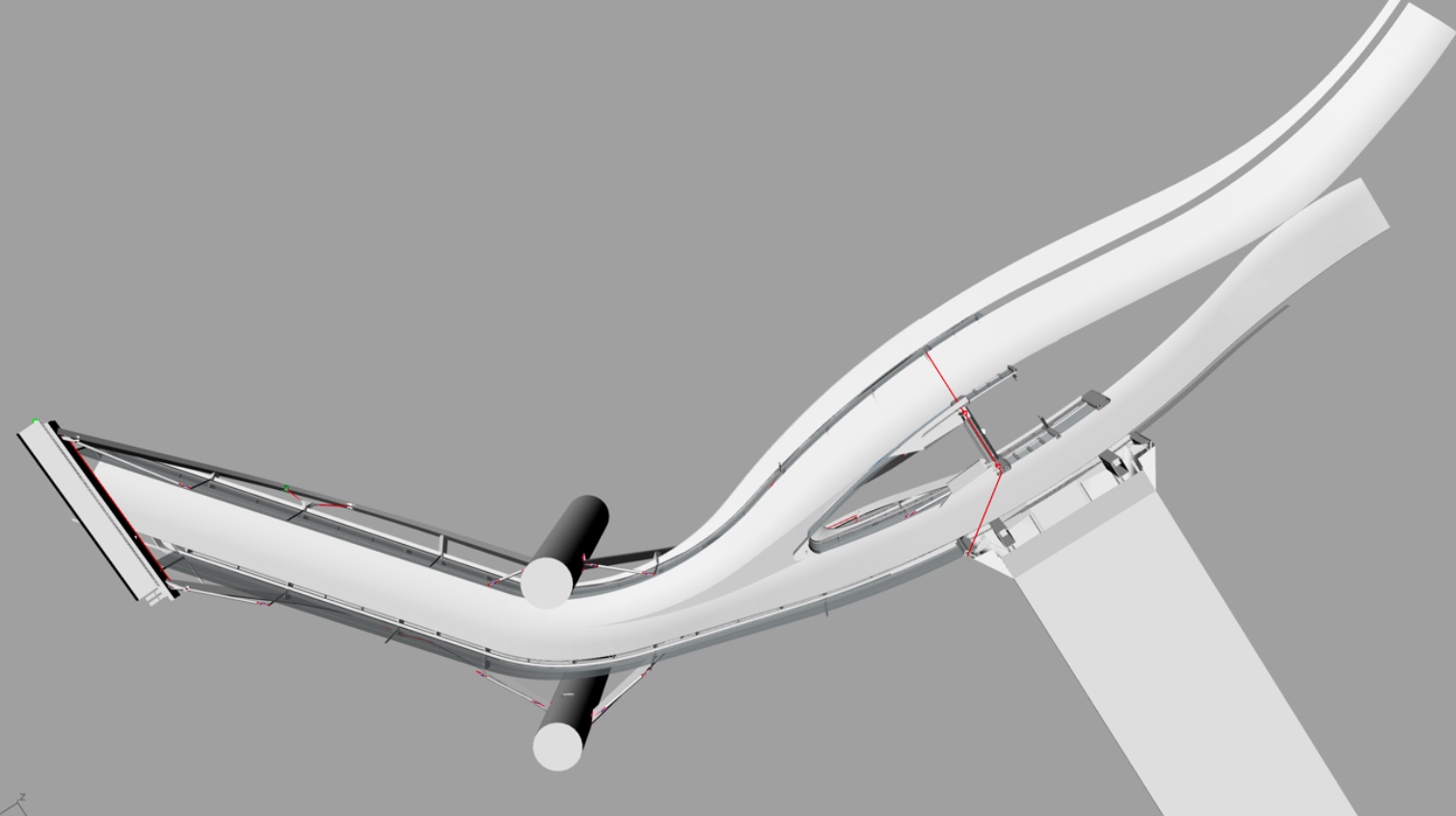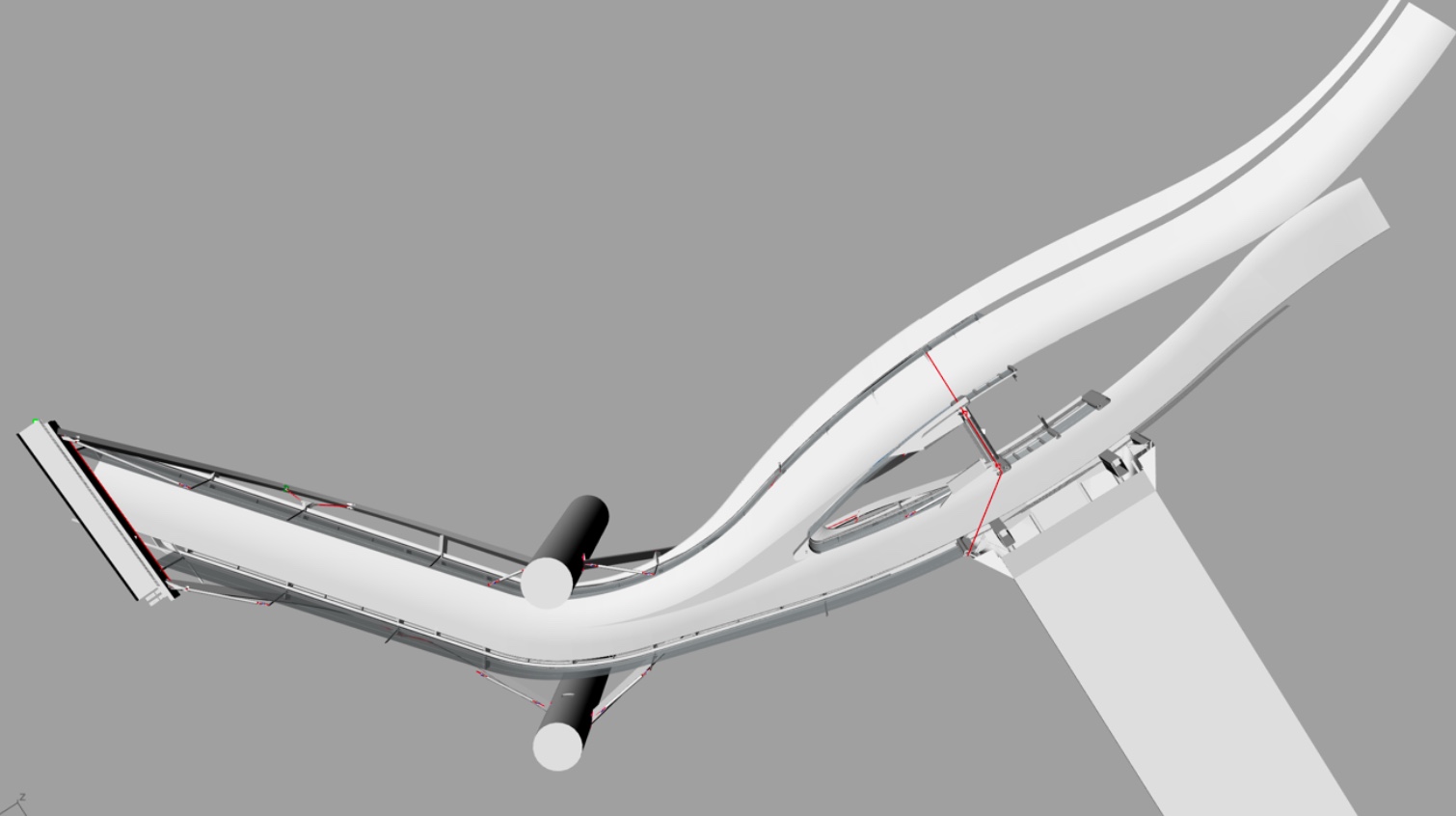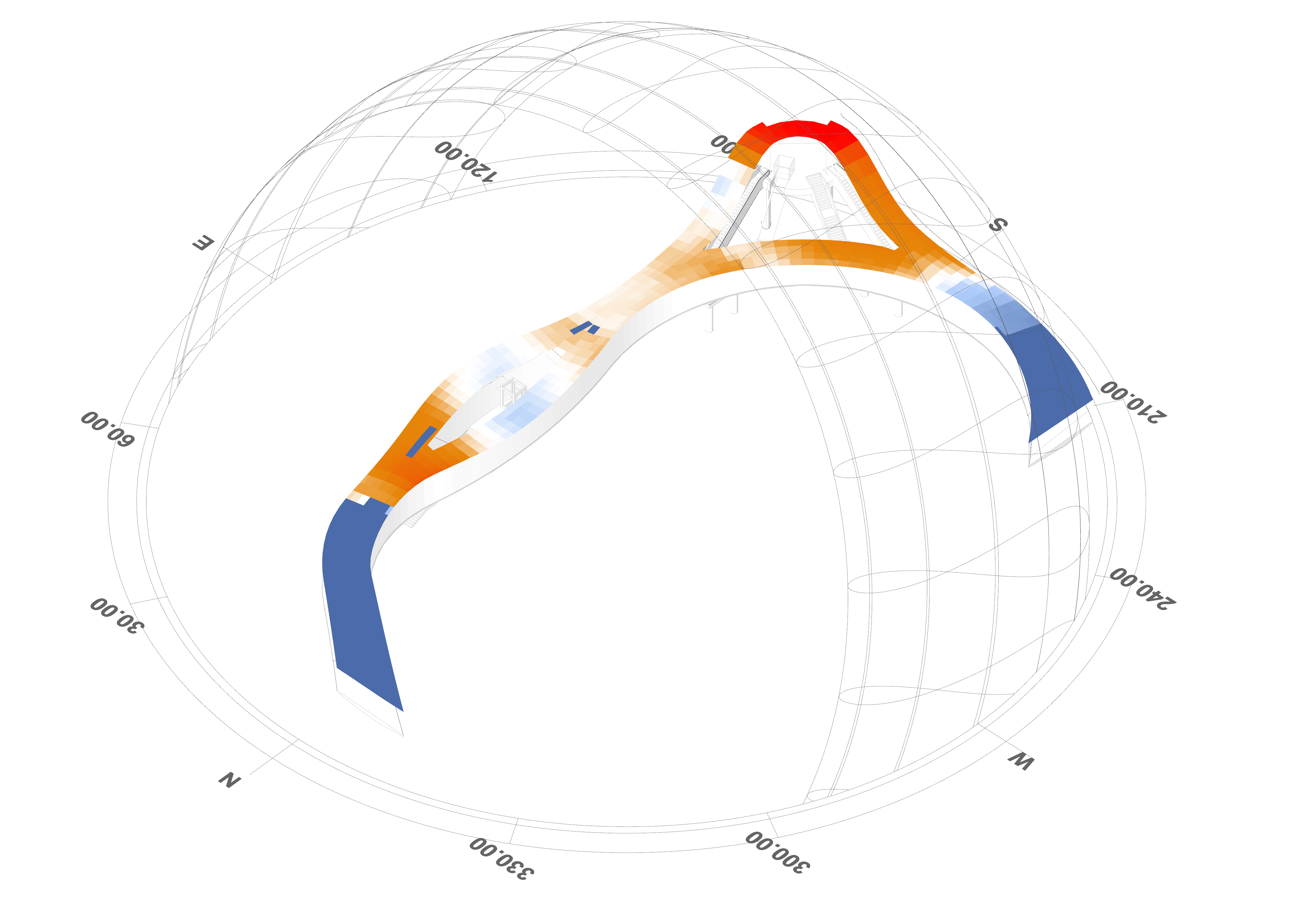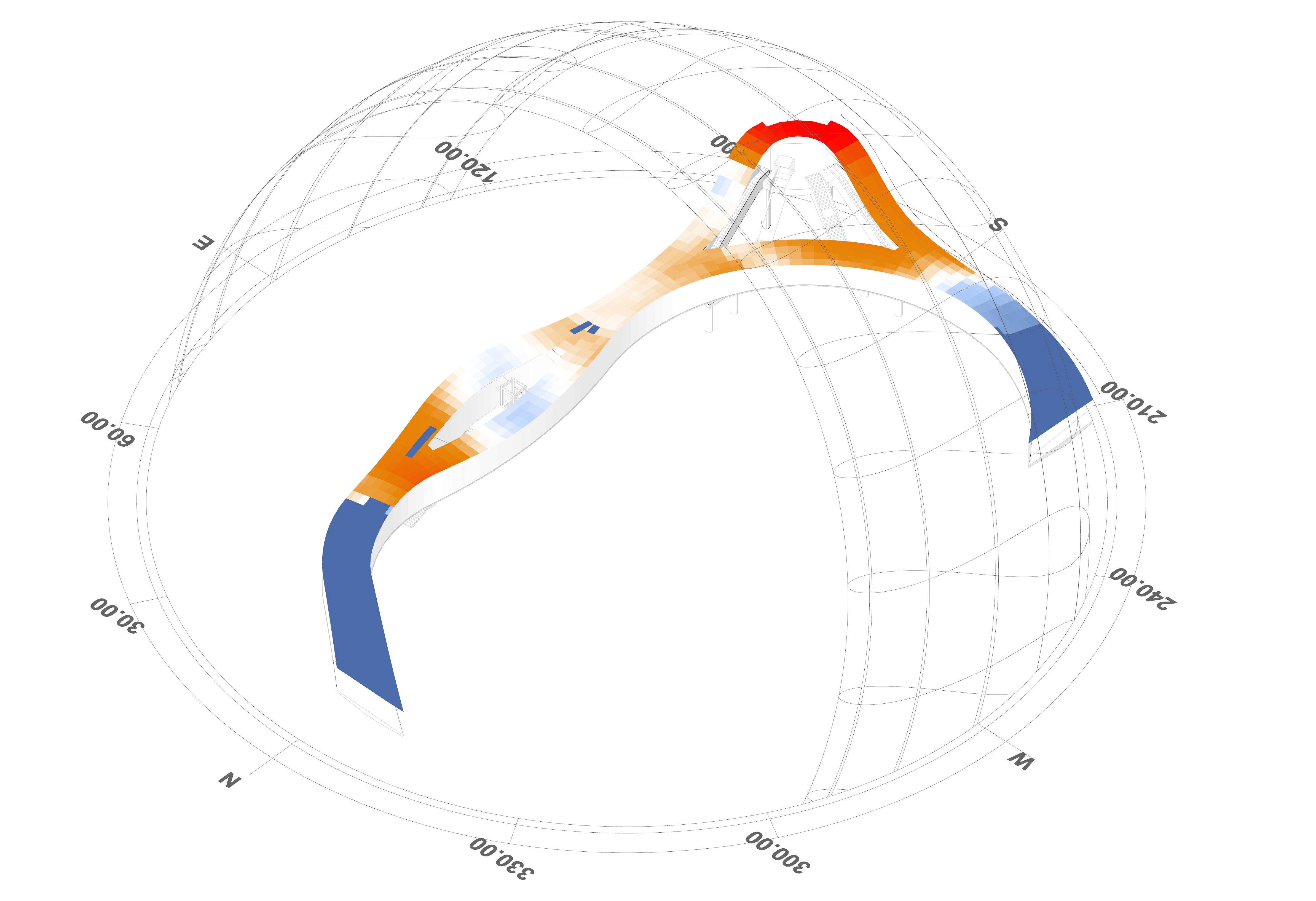 Thee curves are complemented with complex patterning using state of the art industrial processes to bring unique custom motifs and identity in cladding materials and finishes. Ceiling aluminium sheet is milled to unique oval patterns that express movement and
direction, providing variable transparency and opacity to mask vital fire protection services in the roof whilst providing a feeling of lightness and views. Floor stone paving patterns involve a fractal fragmentation and scaling of large to small square and golden rectangle tiles to express the curvilinear forms.
Tactile materials, warm to the touch and custom made, bring further human scale and originality. Cast stainless steel handrails support a grooved bronze handrail curved to follow the glass wall.
Full access for people with limited mobility is enabled throughout the entire walkway network. A feature inclined glass elevator creates an event with dynamic views of the garden descending from the One Island east connection to the garden promenade level across a landscaped patio.
Finally, the walkways create spaces for people to experience a quality environment, as well as providing a means of getting from A to B. Creating quality spaces where people can have spontaneous interchange in a culturally enriched context is also sustainable design. Art complements the human experience and helps to bring durable activity and making places people want to linger in. The walkways are intended as a forum for art to be shown and exhibited. Strategic places are allowed for sculpture and media compatible glazing products are being researched to create a culturally enriched context for the activity that is essential for a durable community.