HDA STUDIO
Located in the old Marais quarter of Paris. A glass roof sheltering a single open plan office space recently renovated. A specific feature is the furniture : laser- cut waxed plywood in a single freeform shape with a series of petals demarking individual work stations, the continuous flow designed to encourage spontaneous interchange.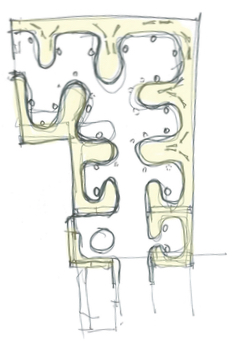 Address:
7 rue Pecquay    75004 Paris
Phone: (+33) 01 42 78 07 07
Fax: (+33) 01 42 78 01 02
Email: hda@hda-paris.com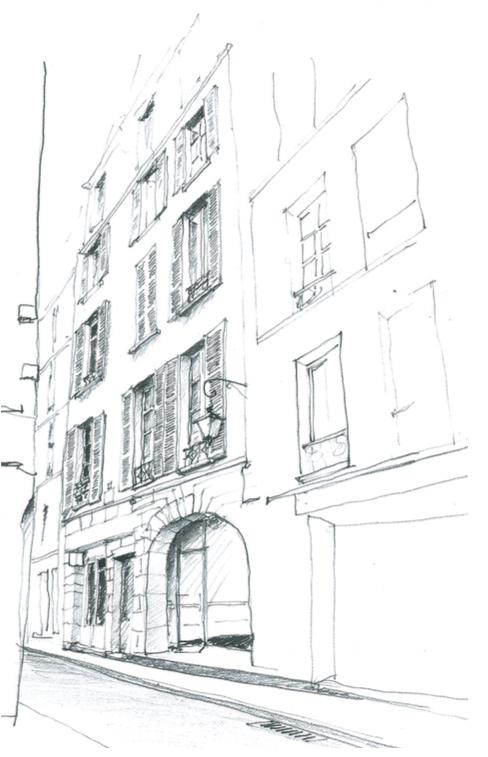 WHO WE ARE
HDA, founded by Hugh Dutton in 1995, is a Paris- based studio with a branch office in Hong Kong.
Hugh Dutton qualified as an architect at the Architectural Association in London and spent early years working with Norman Foster on the Stansted Airport. In 1982 Hugh joined Peter Rice, an engineer known for his inventivity, notably for the Sydney Opera house and Pompidou Center, at his newly formed company RFR in Paris. He then spent the next 13 years immersed in an integrated holistic approach to design. Collaboration from this time include pioneering bolted structural glass and cable structures at the La Villette Science museum, the Louvre pyramids, La Defense fabric 'Clouds', the marble translucent west front of the Cathedral de Notre Dame de la Treille in Lille. The publication "Structural Glass", jointly written by Dutton and Rice, is regarded as a seminal work
by the profession.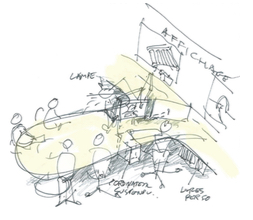 CREATIVE FLUENCY
Fluency in language is achieving familiarity with words to the extent that communicating with them appears effortless. We concentrate on what we want to say, rather than how we say it. At HDA, our words are the inspirations that provide the essentials of what is needed to realise our built works: materials, light, structure, the envelope, the environment, climate, understanding fabrication processes and workmanship … With these skills at our fingertips we strive to work for a synthesis of poetic intent and physical reality. Each member of the team contributes a distinct and complementary discipline. Each project begins with a clear concept, a specific story to tell. We develop the narrative by understanding and orchestrating these skills with creativity, which carries the process to another level by providing freshness and newness, motivating us and challenging us. We believe this method takes us to coherent and timeless quality in our design work.
INTERNATIONAL COLLABORATION

HDA's work is generally on standalone fragments, features, or pieces where multidisciplinary skills are required for cohesive, holistic design compositions. The office has participated in well-known European iconic cultural works in France, Italy and Greece. HDA works often in Asia, on major airports and public buildings but most frequently with innovative developers, notably Swire Properties in Hong Kong. We develop specific iconic building components in collaboration with the primary architect and their local technical teams or design institutes.
We continue our ambition as «…a laboratory for interface between architecture and engineering…» (Peter Rice)
« HDA has almost 20 years of existence, We have worked around the world and editing this new edition of our references has demonstrated to me the extent and diversity of our work. Consistent themes of geometry, structure, light, and materials as well as the rigor refinement and detail are clearly evident and fundamental in what we do, no matter where it is and with whom we have worked…
This moment is a fitting turning point for a new departure. We have consolidated our resources, our studio space, and reinforced the team to be able to fulfill the challenges we set ourselves with our client partners  »

« I am an architect graduated at the ESA ( École Spéciale d'Architecture ). I began my professional career in Paris since 2012. My passion for architecture design encourages me always to move forward and never be satisfied with my work.The practice at Hugh Dutton Associés inspires me to explore all the unknown field. »
Skilled in Complex 3D modeling , design and production documentation. Her Chinese culture background as a strong asset to HDA for Asian work.
« I graduated as mechanical engineer at Politecnico in Milan and started working in facade domain in 2002 achieving a strong knowledge in codes and design of steel, aluminum and glass. »
Technical designer, draughtsman and engineer with 12 years experience in façade design with high profile contractors such as Permasteelisa and Yuanda.
« Working at HDA is an opportunity to explore innovative technical solutions and complex geometries towards challenging projects, being a part of a skilled and dynamic team. Having completed Master's degrees in Architecture and Structural Engineering, I aspire to develop a global approach in design processes, from concept to detailing stages. »
Architect and Structural Design Engineer experienced in complex modeling and structural analysis.
« During my studies, I always paid particular attention to the work of Jean Prouvé and Peter Rice. When we share a common goal and put creativity and innovation at the service of architecture, we can change the world. At HDA, this is what we strive to do every day, through the exploration and experimentation of matter, light and geometry. I am fortunate to be able to share my passion for architecture and engineering with a very rich team and to use my taste for new technologies on complex projects. »
« I'm an architect, my professional journey began in 2009 as a designer in Lebanon. Later, I moved to Saudi Arabia, where i gained extensive experience as a construction manager. In 2021, I made a transformative decision to relocate to Paris and pursue a specialized master's program called « Design by Data » at ENPC, focusing on digital technologies for buildings. Joining HDA in 2022 was a significant milestone in my career. It provided me with a valuable platform to pursue my passion for managing complex geometries in architectural projects. This experience is exceptional as it allows me to explore innovative methods from the initial concept stage to the final execution phase of each project. i am thrilled to continue pushing the boundaries of architectural innovation.»
« At HDA, i found the opportunaty to work at the intersection of design and engineering to realize geometrically complexe designs. Working within a highly specialized team, I've been able to expand my knowledge about innovative technical as well as BIM workflows. »
Architect with expertise in parametric design and application of advanced technologies in architecture.
« Having an Engineer degree in Civil Construction and a Master in architecture, joining HDA gives me an unique opportunity to use this dual set of skills in my daily work. Each project is a chance to improve spaces qualities with technical detailing and engineering, bluring the limits of common architectural and engineering practices, while working in a good mood !I feel fortunate to be part of a team with such various and complementary backgrounds. »
 «Joining the HDA team on the Swire Properties project in Hong Kong has been an exciting and challenging experience. With my Architectural and Construction knowledge I have been able to assist in taking Hugh's unique designs from early concept stages through to project completion. Running a project BIM model has been an essential component in the construction stages to ensure the Contractors here in Hong Kong fully understood the complex geometries the HDA team were able to create..»
« I have been working with Hugh Dutton for over 10 years, accompanying him though the concept and design phases. I particulary like the agency's methodology, and enjoy the ressarch phases of each project betwwen science, engineering and design»
« A graduate in Aesthetics and Arts at La Sorbonne, my international experience allows me to embrace the necessities of an architectural practice, the frequent travels of Mr. Dutton, the business awareness, the great variety of interlocutors. I am glad that after many years, I get to discover the architectural world through a dynamic and multifaceted practice such as HDA.»
 « Keeping the books for creative people is quite a challenge. Easier with a smile.»