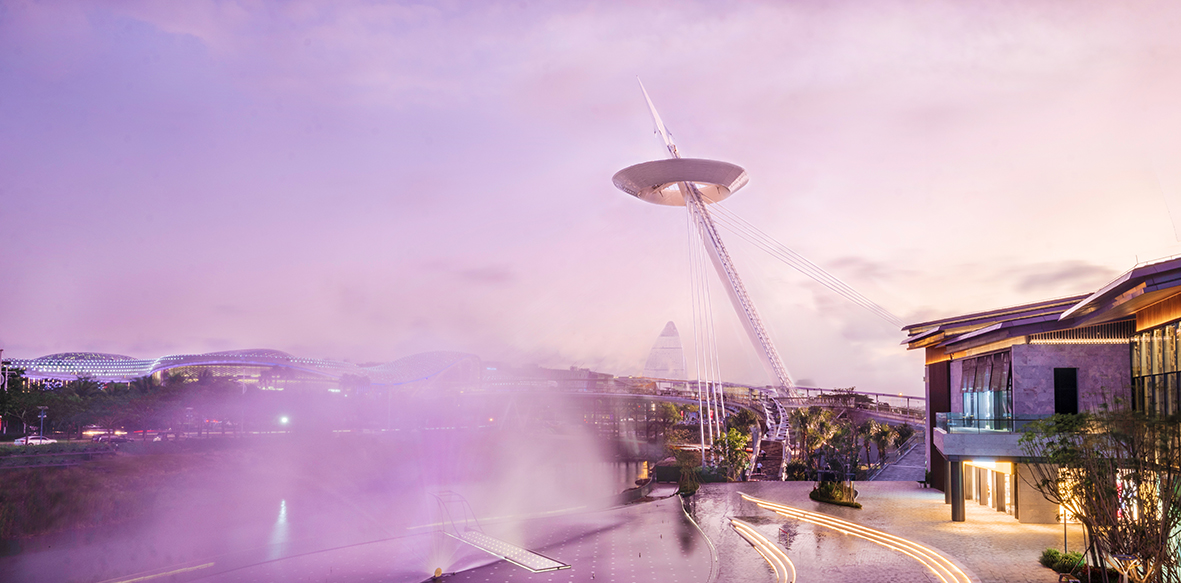 CREDITS
CLIENT : CITS
ARCHITECTURAL AND STRUCTURAL DESIGN : HUGH DUTTON ASSOCIES
CONCEPT ENGINEERING : BUCCI
CONSTRUCTION CONSULTANT :  VIRY
CONTRACTOR : CCCC |CHINA COMMUNICATIONS CONSTRUCTION COMPANY

YEAR : 2017-2019


HDA TEAM : Hugh Dutton, Gaëtan Kohler, Yingjie Yu, Sara Maggipinto, Laurie Rowenczyn, Phil Barrett, Rafael Silvera
HAITANG BAY FOOTBRIDGE PRESENTATION

The new Island shopping area is as much a tourist destination, a 'Brand New Experiential Holiday Hub', as it is a commercial experience. Visiting it should be a family event, a leisure experience attracting people to the island.​
The inclined pylon and the floating ring create a strong silhouette, an iconic symbol. Instantly recognisable, it attracts people to River Island from afar and places the new experience at the heart of the landscape, helping to develop it as a successful commercial and family destination.​
We strive for an elegant form. The strong silhouette of the pylon suspends a delicate array of cables which carry the pathway across the river to the island. Elegance comes from efficient structural design, and together the pylon, cables and suspended pathway converge in a structural design that is both efficient and elegant
The pathway begins with a garden walk, an extension of the landscaped plinth of the existing Duty-Free Centre.  Benches and seating are provided, with shade canopies for people to linger and appreciate the view. Mobile kiosks and refreshment stands can be positioned at will. In the evening, soft lighting creates a fantasy promenade.​ The shading canopy includes fans in wood to provide a gentle air movement for the users on still days to improve the comfort of the users.
The pathway splits to either side of the inclined pylon, the 'Y' form providing structural stability and giving people the option of heading directly for the Arrival Plaza or descending to the water's edge. The suspension cables split apart as the deck divides, creating a sculptural spatial experience.​
Arriving on the island, visitors can take a trip 50m up to the Sky Ring observation deck, a discovery sightseeing experience which progressively reveals panoramic views of Haitang bay unfolding before them. Many cities, big and small, boast a viewing point as a destination, and the Sky ring taps into the immense popularity of attractions like the Shanghai Communications Tower, Pearl of the Orient, the London Eye, the Eiffel tower and Brighton's i-360.  We all have a basic human desire to vanquish heights, to climb mountains – we all love to climb to the top. ​
At night, the suspended ring floats freely in the sky – a luminous circle, a pure form, like an ever-present moon. The iconic symbol that River Island needs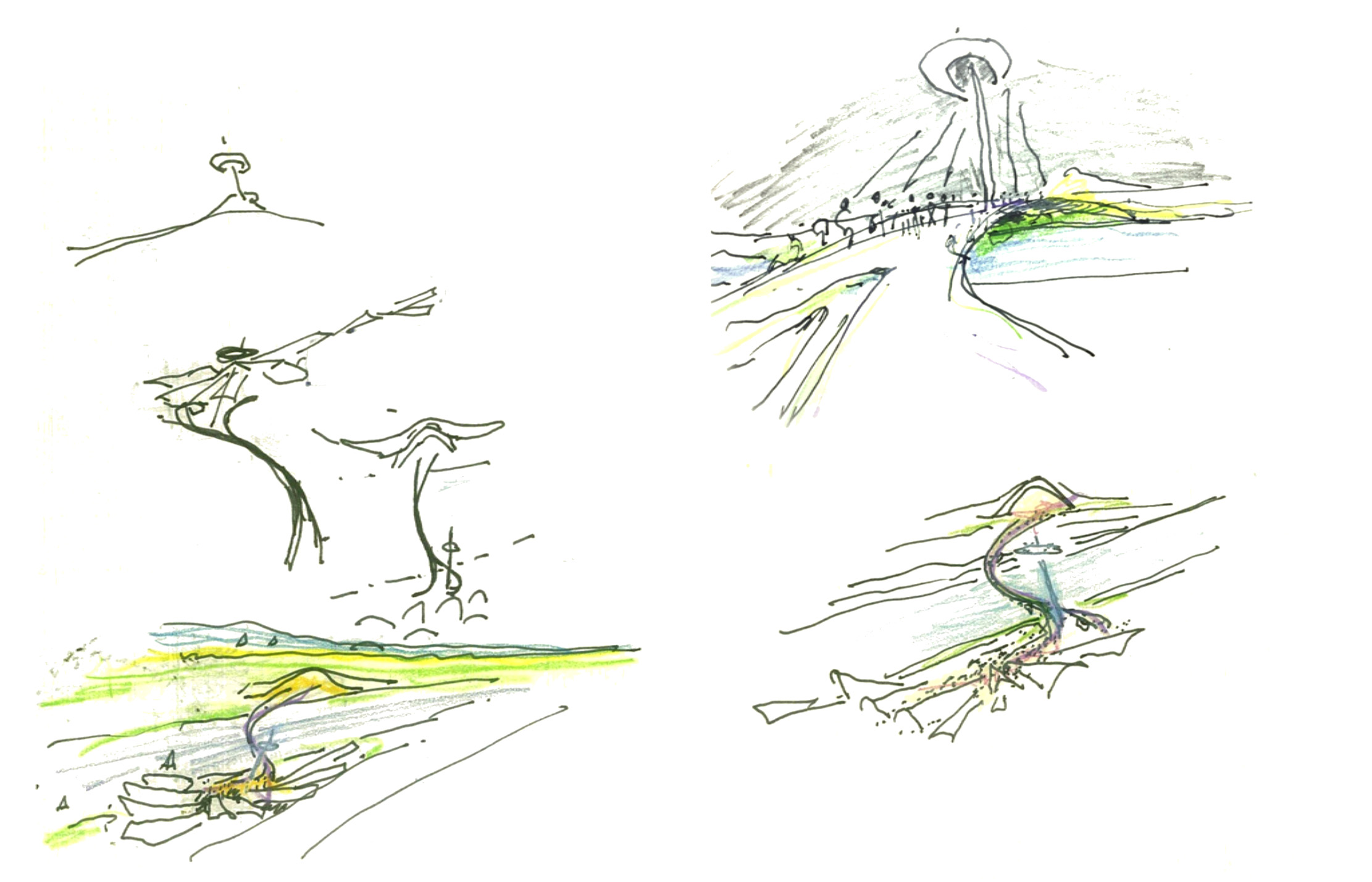 DYNAMIC ANALYSIS & AXOMETRIC