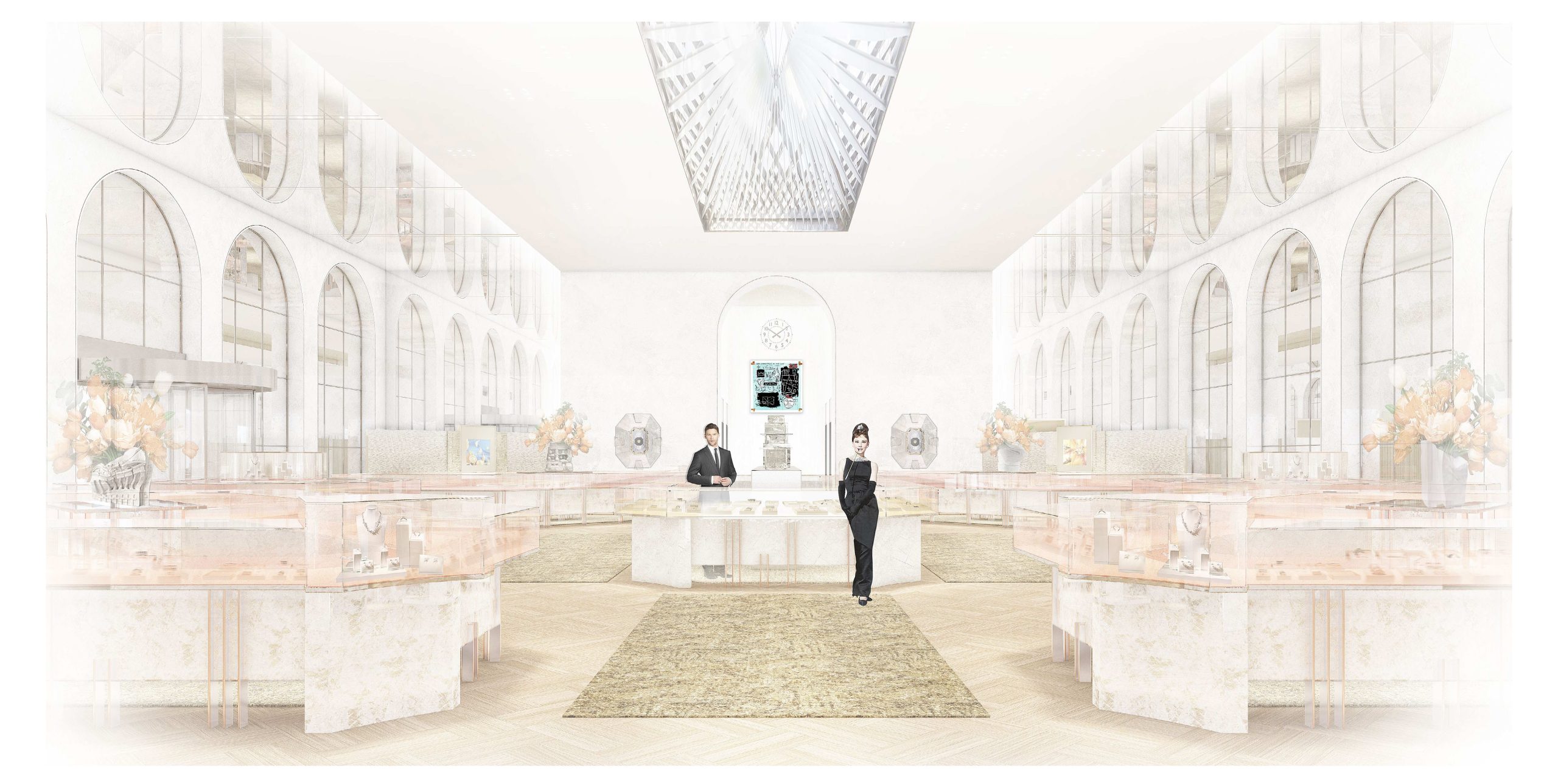 CREDITS
CLIENT : TIFFANY & CO
DESIGN & ENGINEERED : HUGH DUTTON ASSOCIES, Paris
ARCHITECTURAL DESIGN : PETER MARINO ARCHITECTS, NY
FABRICATION :  LASVIT OF THE CZECH REPUBLIC TO A STEEL FRAME BY STRUCTURE TONE


HDA TEAM : Gaëtan Kohler (Architect / Artist), Laurie Rowenczyn (Architect / Engineer), Yingjie Yu (Architect)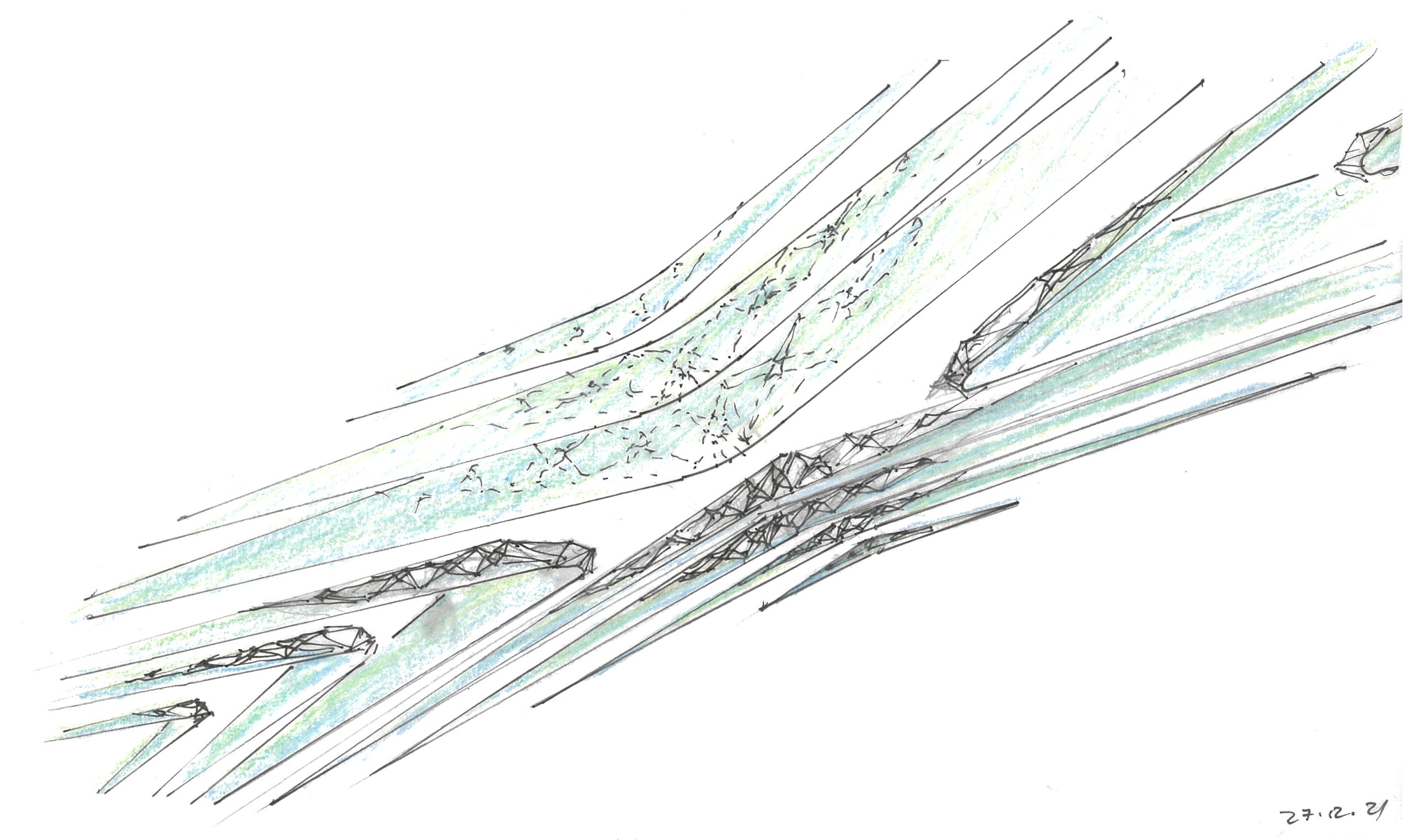 DIAMOND SKYLIGHT CHANDELIER

A chandelier to bring a sensation of sky in the lobby. Celebrating light, the same light that the joyous sparkle that diamonds bring to our lives.
A Geometrical focus on the center of the space, spatially connecting the four surrounding walls.
A discreet colorless luminous skylight chandelier reflecting the colors and activity of the space below and in the video's windows and mirrors.
High quality glass blades suspended from a luminous ceiling that culminates in suspended cast and engraved crystal shards at their tips toward the center.
The shards are cut and polished in geometrical patterns to optimize reflectivity inspired by the idea of falling diamonds.
The blades are inclined in response to the angle in which the installation is viewed from the entrance and by people circulating around the floor.
The chandelier is a kinetic glass sculpture that sparkles and glitters, revealing hints of intricate reflections as the viewer moves beneath it, expressing the rich spectral complexity of light.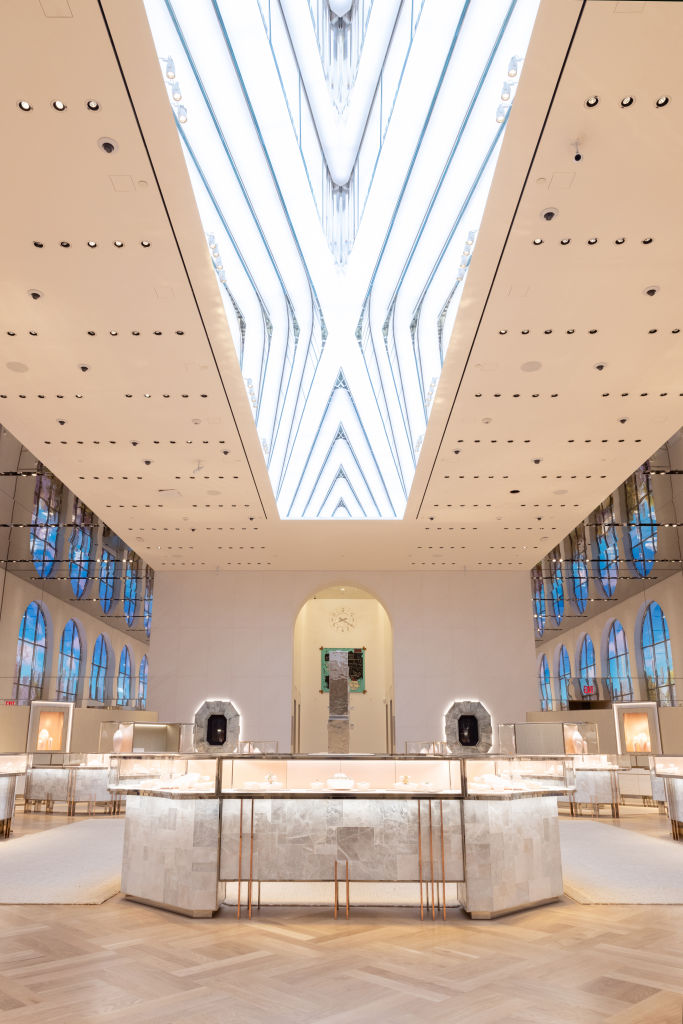 COMPOSITION OF THE CHANDELIER

The Chandelier is composed as a focus of the architecture of the main lobby.
The radiating blades are angled to provide a kinetic response to the viewers as they move around the space below.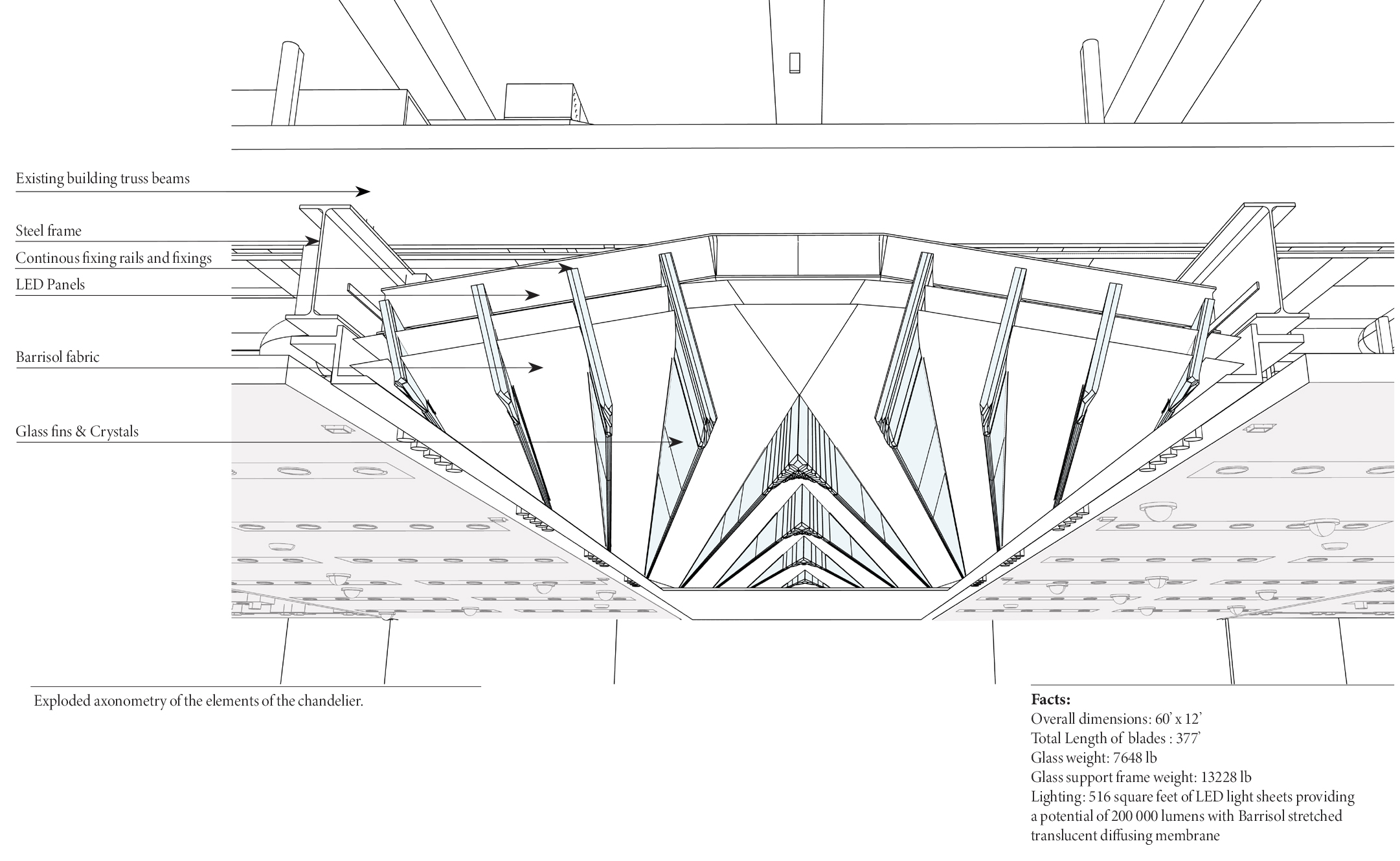 The glass blades radiate from a central focus where they terminate in crystalline shards that are cut and bevelled to an intricate pattern recalling faceted diamonds.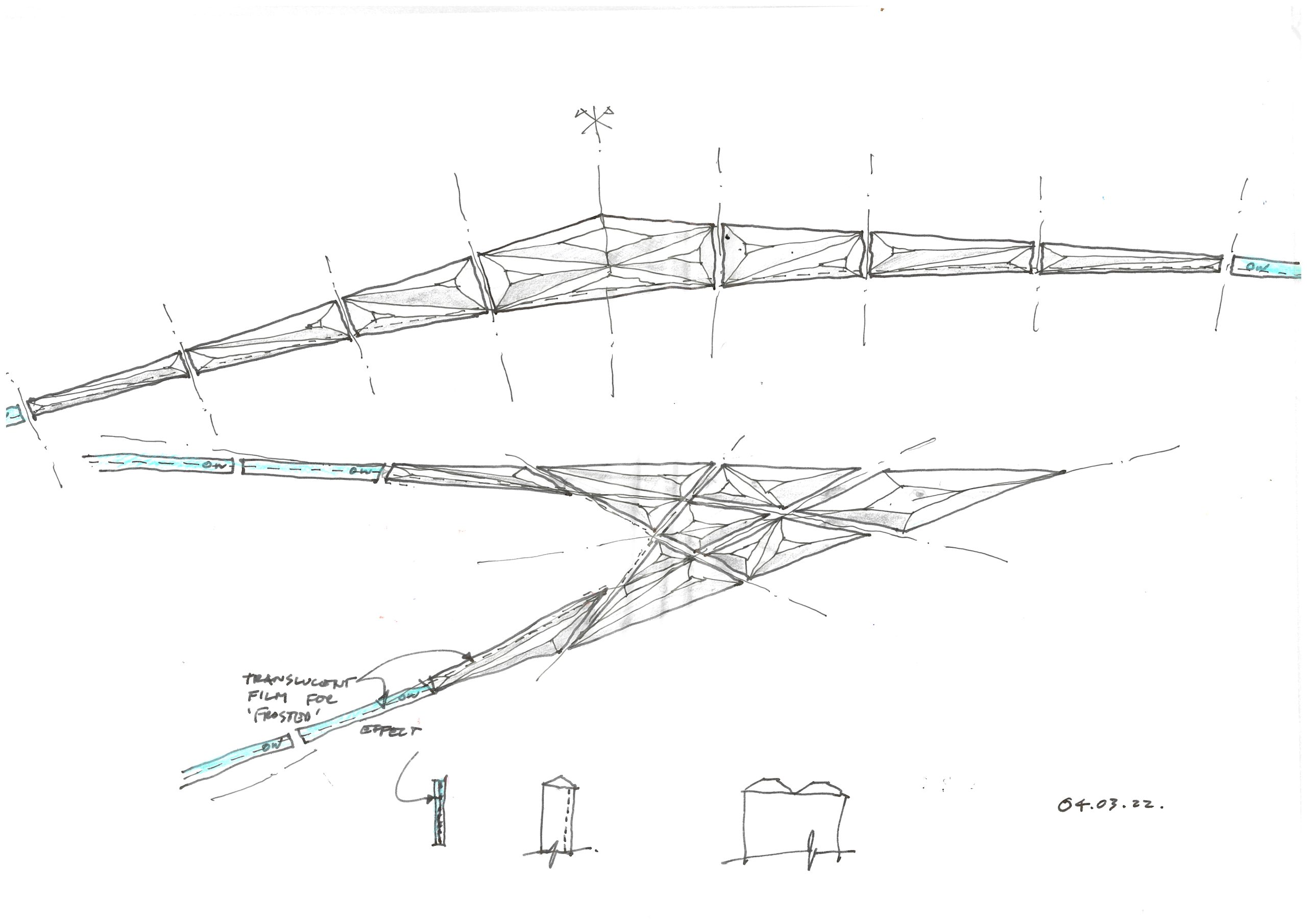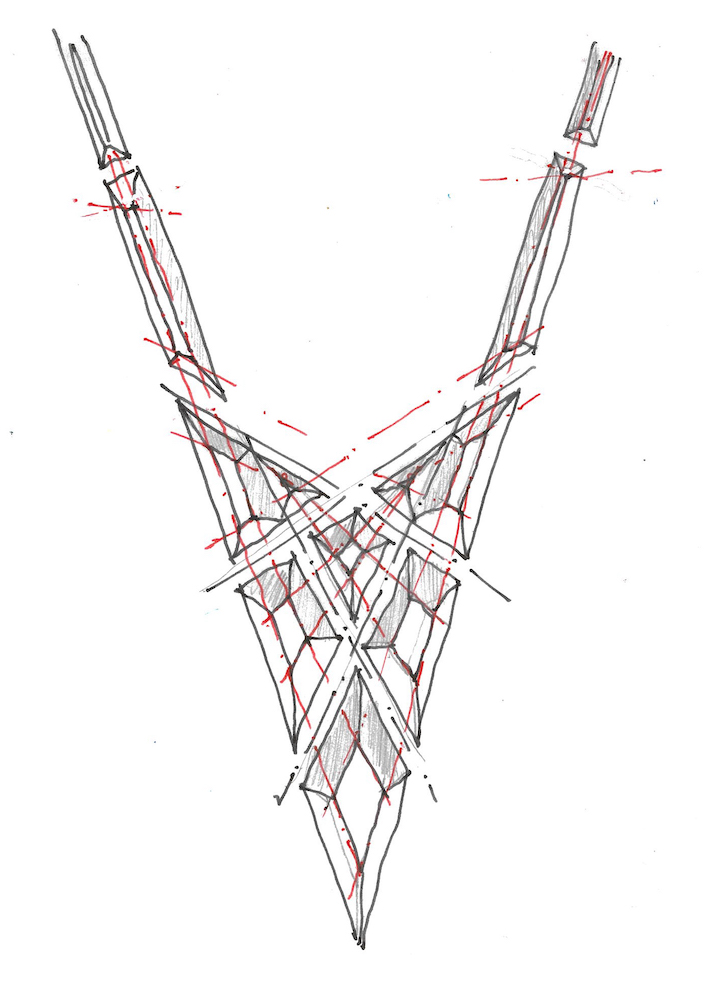 The Glass was cast, engraved, tested and assembled in the Czech Republic by the Lasvit Group in the tradition of bohemian crystal at Novy Bor.
3000 hours of glass mould making and melting plus 3200 hours of cutting, grinding and polishing..