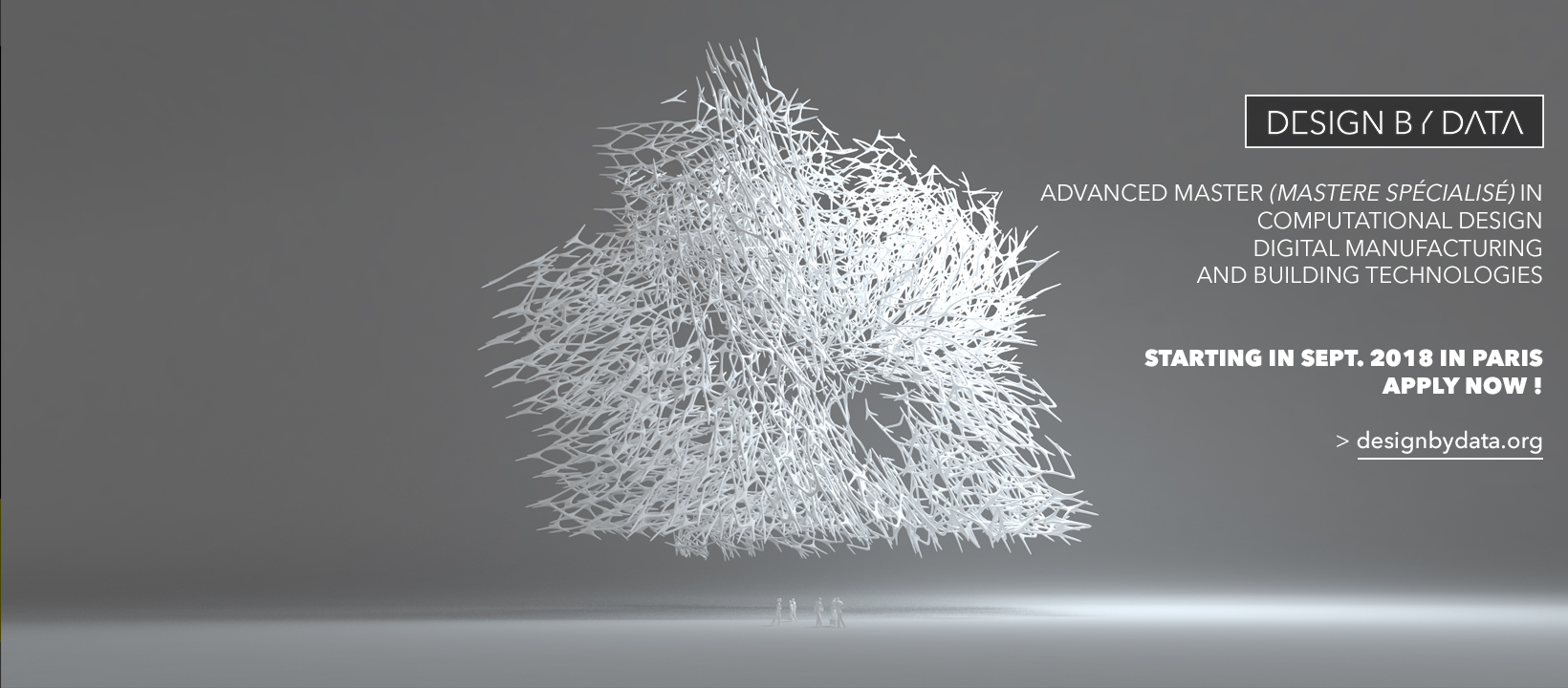 Hugh Dutton Associés provided conceptual and technical design assistance for the façade systems and the special structures for the sculptural rooftop Corolle, podium marquises and structural glazing design.
Applications are open for the third edition of the Design by Data Advanced Master® in Computational Design, Digital Manufacturing and Building Technologies opening in September 2018 in Paris.
APPLY NOW > https://designbydata.org/apply/
Design by Data provides attendees with a cross-disciplinary culture of computational design and a comprehensive knowledge of cutting-edge technologies in the fields of parametric architecture, robotics, digital manufacturing and 3D printing for the construction industry.
The program is run by the prestigious École des Ponts ParisTech and designed for a selected group of architects, engineers and designers offering a variety of courses, fabrication and prototyping workshops, conferences, digital talks and networking events.
The program is a 12 month Executive part-time course (one week per month) including 350 hours of teaching plus a one-year research project. Besides the one week per month teaching courses, candidates can both keep their professional activities or develop their research and projects using the coworking and fablab facilities of the school – a full-time membership to access the digital fabrication ressources of the school is included in the program fee.
For details and applications please visit >https://designbydata.org/
***
Tutors and faculty includes Aldo Sollazzo Adrien Rigobello Sébastien Perrault Yasmine Abbas Minh Man Romain Mesnil Tristan Gobin Andrea GrazianoAlessio Erioli Francesco Cingolani and others.
***
Official partners of the program are : Laboratoire Navier + Thinkshell + XtreeE + Noumena + HDA | Hugh Dutton Associés + ECHOES + Volumes Coworking + WoMa, fabrique de quartier + Fab city grand paris
***
IMAGE CREDITS : the artwork has been produced by students Ilona Darmon + Pauline Koch + Juliette Truffert within the course Agent Based Tectonics for Architecture tutored by Alessio Erioli.